Hygiene concept Safe Expo
Since April 3, 2022, all corona restrictions at trade fairs have been removed. As a result, access restrictions such as 3G or 2G regulations, capacity restrictions, distance requirements or mask requirements no longer apply nationwide at trade fairs.
We are looking forward to a successful RETRO CLASSICS with visitors and exhibitors!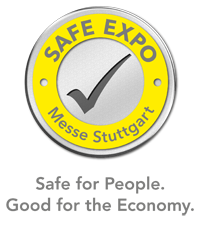 Measures for the controlled and safe staging of events at Messe Stuttgart
Trade fairs and exhibitions in Stuttgart can be staged safely. Messe Stuttgart has formulated a concept to protect the health of its exhibitors, visitors and employees. These are the measures.
Hotline: +49 711 18560–2011
Have you got questions concerning the hygiene concept of Messe Stuttgart and the safe participation in trade fairs and events? Please call our Safe Expo Hotline: +49 711 18560–2011 on workdays between 09:00 and 16:00h.
Outside office hours, you are welcome to send an e-mail to safeexpo(at)messe-stuttgart.de.
For general questions please contact: +49 711 18560-0, info(at)messe-stuttgart.de.